Alumni interview AMOS Madrid - Condor Media, Atlético de Madrid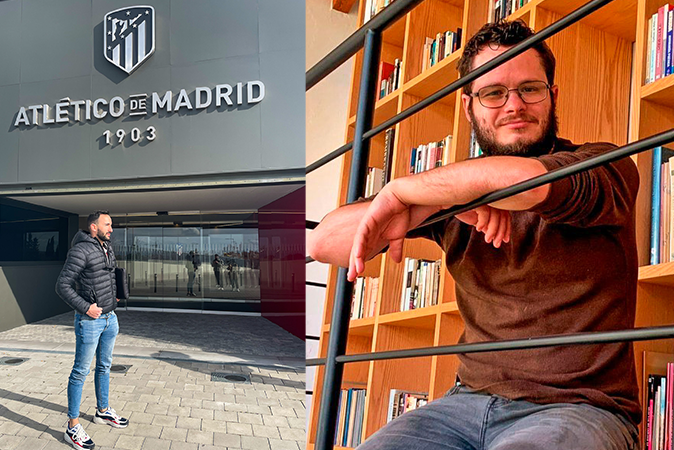 Can you tell us a bit about your job ?
Pedro Arnau (alumni AMOS Madrid, ESBS by AMOS): I am a project manager at Condor Media, we are a digital production and content strategy company based in Madrid and are working with clients from all over the globe. My daily routine consists of producing, developing, post-producing and scheduling social media content for various clients. These clients are working in different industries, sport is obviously one of them (Real Madrid and UEFA are part of our portfolio) but there is also the Entertainment, Fashion and Journalism industry.
Ivan Fernandez (alumni AMOS Madrid): I am the assistant team manager for the women's team at Atlético Madrid. My role is to work with both the coaches and the players, helping them with everything they need to make sure that they can perform at their best. It involves a lot of planning and logistics, making sure that every time the team plays, our players arrive on time, have everything they need, arrange the transport and many other things to allow our staff and players to solely focus on their game.
How important is digitalization in the sports industry ?
Pedro Arnau: One thing to remember when it comes to digitalization in the sports industry is that content is king! Nowadays, the only way for companies to sustain themselves is to create engaging content daily and share it with their followers. Clubs like Real Madrid are present on all types of media as they need to reach a global audience, so we usually create content for YouTube, social media (TikTok, Instagram, Facebook, and Snapchat) as well as TV commercials and Radio. Therefore, whichever industry you are in, you need to be able to create content that can be published in different media that resonate with different audiences.
A word about journalism in the sports industry ?
Pedro Arnau: Sport is, according to my understanding, one of the only industries that is keeping print media, radio, and television alive. Understanding the importance of sports is crucial to deliver good content. Regarding journalism, creating stories is what matters the most: what sells, good research and having great writing skills. If you can do all of that, then your content will reach customers' expectations.
What type of skills and mentality clubs like real Madrid are looking for when it comes to hiring ?
Pedro Arnau: The first skill that comes to mind is creativity. Even though Football is more than 100 years old, the ways to cover it have changed continuously, and this is what they are looking for, someone who can think out of the box and allow the club to differentiate itself.
Secondly, they are looking for people who can do multiple things, you can be a good designer or a good editor but what else can you do? The more you widen your knowledge, the more responsibilities you will be able to handle and the more people you will be able to manage.
Finally, experiences. Whether it is through volunteering, internships, or previous jobs in any type of industry, recruiters are always interested to know, because most of the time, knowledge is transferable from one industry to another. Therefore, work and learn as much as you can, in technology, design, video production, sale, podcast, journalism, management, etc. the more knowledge you have the better chances you will have to find a position you will enjoy.
Ivan Fernandez: In my case, Atlético Madrid was looking for someone who could speak different languages (Spanish, English and French in my case), who could work with people coming from different cultures (as our players and coaches are coming from all over the globe), and finally someone who was polyvalent. When working for an international company, there are always new challenges to overcome, and you need to have different skills to deal with them, so being able to work and understand different areas of the business is a big plus on your CV.
Découvrez nos formations
Un diplôme de niveau bac+5 est courant pour ce type de métier. Un bachelor associé à un master ou un Programme Grande École en 5 ans permet de développer des compétences diverses. En effet, en plus d'élargir ses connaissances sur le marché du sport, les étudiants se spécialisent dans le management, la communication et le marketing du sport.
Toutes nos formations