GSBM AMOS students at the Sports Tech Nation 2022 in Tel-Aviv
Évènement
International
Paris
Londres
Madrid
24/11/22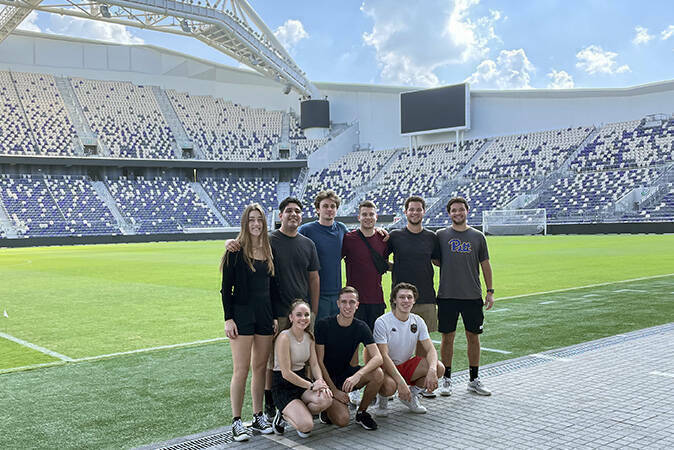 A close partnership and a futuristic vision
On September 2022, AMOS Sport Business School and Colosseum Sports Tech Hub agreed to launch a close partnership with various elements and a futuristic vision.
At first, Colosseum organized a Hackathon in collaboration with Pixellot, the well-known Sport AI Camera (TLV Born), on the Business theme: How the French education sector can leverage Pixellot Automated technology to help athletes in underprivileged communities get exposure?
The GSBM (Global Sports Business Master) students from London, Paris, Madrid, Bordeaux, and Lille Campus had 5 days to develop and present a strategic plan, in order to help Pixellot penetrate the French market.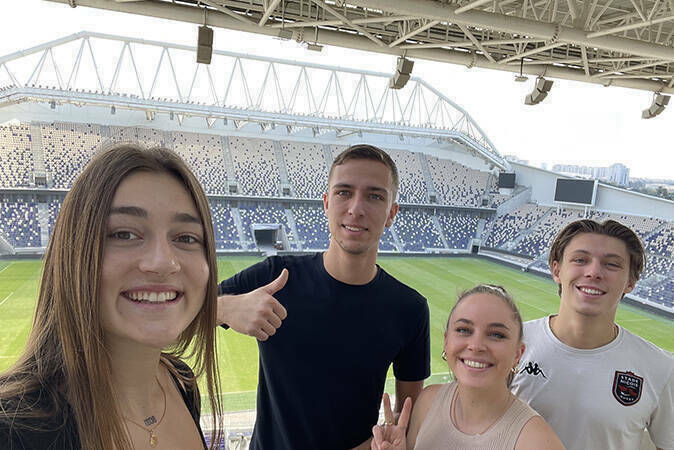 Pixellot and colosseum evaluated the projects, and 10 groups (out of 30) were chosen to present their ideas live to Pixellot executives in a 7-mins pitch, when 3 groups from AMOS Paris, Madrid, and London (each group consisted of 3 students) were voted as the winners of the challenge and awarded the trip to TLV, to take an active part along with colosseum officials in the organization of the legendary Sports Tech Nation Fair.
The students arrived to TLV a day before the event, and they had the opportunity to initiate in footvolley, visit the Bloomfield stadium, and attend a guided tour of the Peres Center for Peace & Innovation in Tel-Aviv – Jaffa.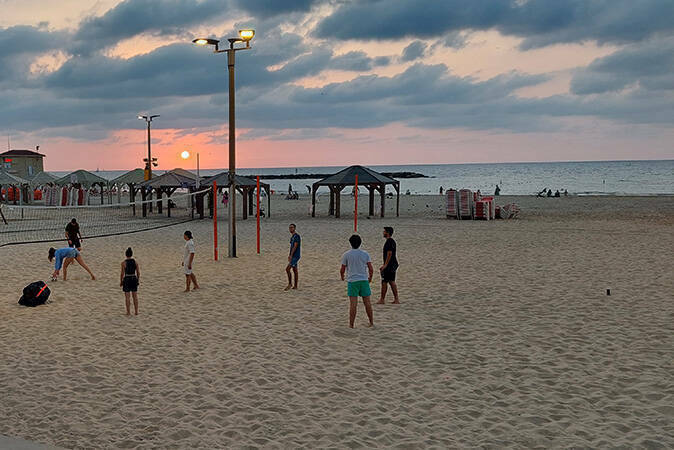 During the 1st day of the event, the students networked and met multiple Sports start-ups, companies, and actors involved in the Global Sports Business and Tech sector and participated in conferences and round tables about Sports Tech development worldwide.
The students also had significant responsibilities during the event such as:
• Press releases
• Communications
• Logistics
• Social Media management (Video creation)
• Moderation of Conferences
• Flux management
On the 2nd day of the event, the student visited the Israeli stock exchange where a B2B Marathon was held, and the participants of the summit met and worked together on various projects.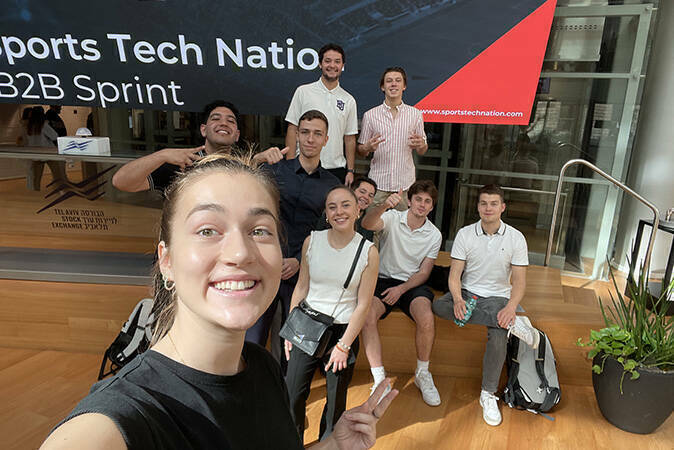 Andy (USA & ESBS by AMOS Madrid)
« Tel Aviv was an experience like no other. Being able to work at Sports Tech Nation and immersing myself in the culture was awesome. I very much enjoyed my time there and hope to go back one day. »
Quinn Murphy (Canada & AMOS Paris)
« Sports tech nation 2022 in Tel Aviv was an unbelievable event. I really enjoyed meeting the local startups as well as having the opportunity to try their innovative products. Furthermore, networking, and listening to leading companies in the sports tech industry such as Socios.com, Juventus Football Club, Pixellot, Blocksport and FIFPRO discuss the future trends surrounding fan engagement and the blockchain as well as the importance of data analytics in sports and how core technologies are changing the relationship between rights holders and fans was an experience I will never forget. »
Oren Simanian, CEO of Colosseum
« Digital transformation in Sports is happening big time, we see many of the sports actors, taping in deep technologies and adopting technologies as we have never seen before. As the founder of Colosseum, it was outstanding to have this international group of students from AMOS, coming from all over the world and experiencing technology at the Sports tech nation summit. I think that as future managers of sports, the students will have to learn to adopt the technologies and the globalization of the sports sector. »
« I was impressed to see how much value the students donated to the operation of the summit, and I feel like these Multi-lingual, cultural, and technological experiences gave them the possibility to get exposed to many unusual on-site events, cultures, and environments they could not experience anywhere else. I am blessed to have the opportunity to partner and collaborate with AMOS Sport Business school, and I want to thank Mr. Patrick Touati, Sylvestre, and Itamar who initiated this contact and managed the students during the event. Thank you, AMOS Sport Business School, for the trust, and for allowing us this collaboration. »
Découvrez nos formations
Un diplôme de niveau bac+5 est courant pour ce type de métier. Un bachelor associé à un master ou un Programme Grande École en 5 ans permet de développer des compétences diverses. En effet, en plus d'élargir ses connaissances sur le marché du sport, les étudiants se spécialisent dans le management, la communication et le marketing du sport.
Toutes nos formations