Our Sport Business partners
To accompany our students with their career projects, AMOS Sport Business School has provided the expertise of its network of partners since 2005.

Do you want to learn more about the sports organizations that recruit our students in your region? Contact us!
Contact us
Groupe l'Equipe, our official partner
In 2023, the l'Equipe group, the leading brand of sports information and the reference in sports journalism in France and abroad, became an official partner of AMOS Sport Business School, a school within the ACE Education group. The organization of events, new career opportunities for students, meetings and unique masterclasses are on the agenda for this win-win collaboration!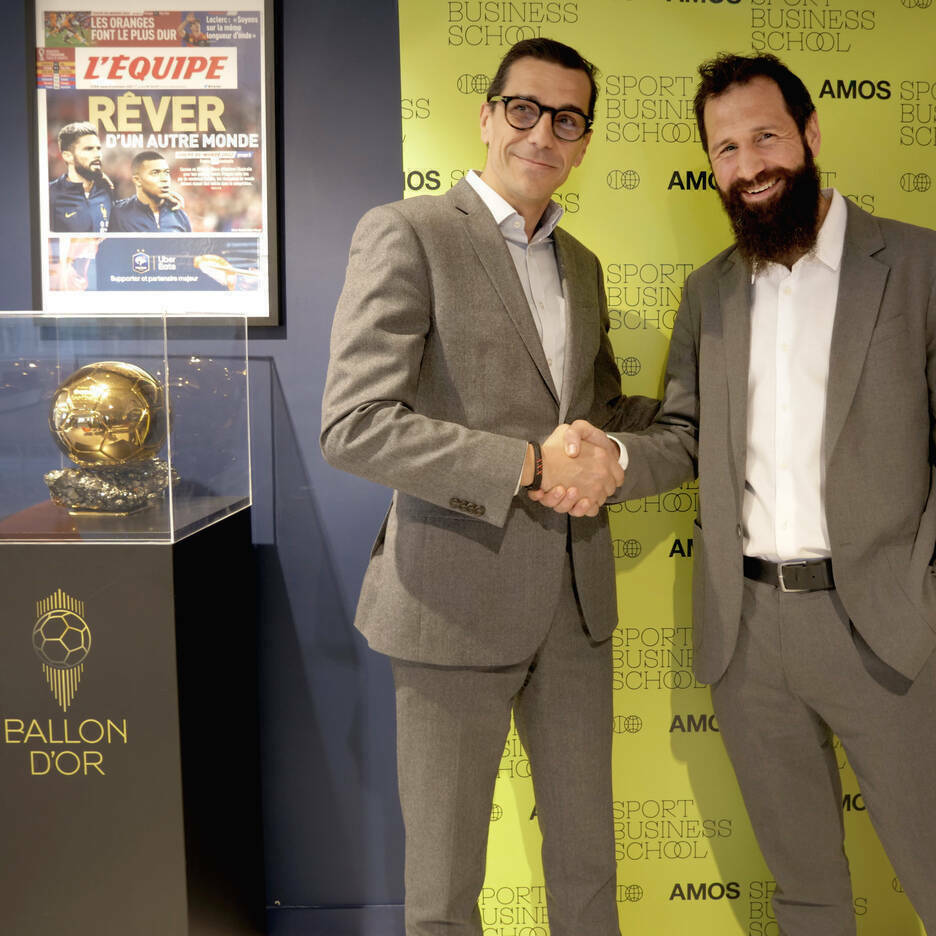 Trusted partners in France
Training Partner of Ligue Nationale de Handball (LNH) – Naming Partner of AMOS Women's French Cup – Official Partner of Fédération Française de Tennis – Partner de la fondation Alice Milliat – Official Education Partner of Polo Rider Cup – Official Education Partner of Ladies Polo Rider Cup – Partner of the eco-responsibility label Fair Play for Planet – Official Partner of PSG Féminines – Official supplier to the associated clubs network OL Madewis – Official namer of the Like Zone and Student Stand Groupama Stadium – Technical Supplier Route du Rhum – Official Sponsor Arkea Samsic – School Partner of LOSC Lille – Partner of Meeting de Liévin – Partner of Montpellier Hérault Rugby – Official Partner of SIG Strasbourg – Official Partner of Ligue Grand EST de Football – Partner of Montpellier Hérault Sport Club Volley-Ball – Official partner of the women's team of MHSC – School Partner of Toulouse Football Club – Sponsor of the Student Tribune of Stade Toulousain – Member of the Union Bègles Bordeaux (UBB) Business Club – Partner of Cercle des nageurs de Marseille – Official support of Handball Club de Nantes – Official support of Neptunes de Nantes – Official support of FC Nantes – Partner of Stade Rennais – Partner of Stade Rochelais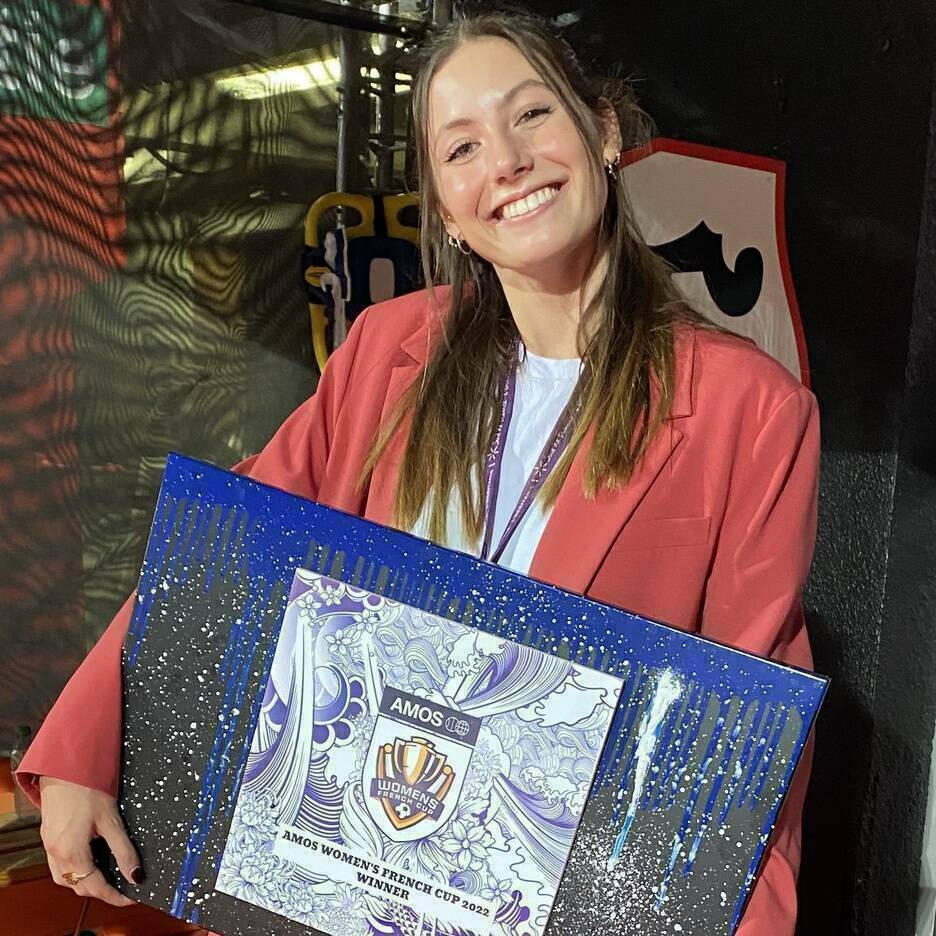 Equipment manufacturers, sports equipment distributors
Companies that recruit our students
ADIDAS
QUICKSILVER
MADEWIS
SPOREO
BILLABONG
LACOSTE
LE COQ SPORTIF
NIKE
TOM TOM
RENAULT SPORT RACING
SALOMON
ASICS
NEW BALANCE
DECATHLON
GO SPORT
ASICS
OXBOW
NEW BALANCE
…
The fitness and recreational sports sector
Companies that recruit our students
UCPA
FDJ
URBAN SOCCER
CMG SPORT CLUB
WINAMAX
NEONESS
RECREA
URBAN CHALLENGE
HOOPS FACTORY
KEEPCOOL
LE FIVE
LETROT
SIMALTI
L'ORANGE BLEUE
GO PARK
PMU
AS FITNESS
…
Media and new media
Companies that recruit our students
WEBEDIA
CANAL +
BEIN SPORT
L'EQUIPE
EUROSPORT
M6
RMC
MEDIA365
RTL
LE VESTIAIRE NANTAIS
…
Federations and Sports Clubs
Companies that recruit our students
STADE RENNAIS
FC NANTES
FENIX HANDBALL
STADE TOULOUSAIN
FONTENILLES FC
JSA
CHELSEA FOOTBALL CLUB
A.S MONACO
NBA
RC LENS
LOSC
FEDERATION FRANCAISE DE TENNIS DE TABLE
OLYMPIQUE DE MARSEILLE
OLYMPIQUE LYONNAIS
NICE VOLLEY BALL
…
Marketing, communication and digital sport consultancies
Companies that recruit our students
HAVAS SPORT & ENTERTAINMENT
QUATERBACK
OPTA
LAGARDERE SPORTS AND ENTERTAINMENT
SPORTLAB GROUP
ORANGE
SPORTTEASY
YOUFOOT
EDF
BCM SPORTS
STADLINE
…
Companies that recruit our students
ADIDAS
QUICKSILVER
MADEWIS
SPOREO
BILLABONG
LACOSTE
LE COQ SPORTIF
NIKE
TOM TOM
RENAULT SPORT RACING
SALOMON
ASICS
NEW BALANCE
DECATHLON
GO SPORT
ASICS
OXBOW
NEW BALANCE
…
Companies that recruit our students
UCPA
FDJ
URBAN SOCCER
CMG SPORT CLUB
WINAMAX
NEONESS
RECREA
URBAN CHALLENGE
HOOPS FACTORY
KEEPCOOL
LE FIVE
LETROT
SIMALTI
L'ORANGE BLEUE
GO PARK
PMU
AS FITNESS
…
Companies that recruit our students
WEBEDIA
CANAL +
BEIN SPORT
L'EQUIPE
EUROSPORT
M6
RMC
MEDIA365
RTL
LE VESTIAIRE NANTAIS
…
Companies that recruit our students
STADE RENNAIS
FC NANTES
FENIX HANDBALL
STADE TOULOUSAIN
FONTENILLES FC
JSA
CHELSEA FOOTBALL CLUB
A.S MONACO
NBA
RC LENS
LOSC
FEDERATION FRANCAISE DE TENNIS DE TABLE
OLYMPIQUE DE MARSEILLE
OLYMPIQUE LYONNAIS
NICE VOLLEY BALL
…
Companies that recruit our students
HAVAS SPORT & ENTERTAINMENT
QUATERBACK
OPTA
LAGARDERE SPORTS AND ENTERTAINMENT
SPORTLAB GROUP
ORANGE
SPORTTEASY
YOUFOOT
EDF
BCM SPORTS
STADLINE
…