ACE Education X ELEVATE: the right connection!
Partnership
Aix-en-provence
International
Paris
Strasbourg
Bordeaux
04/10/23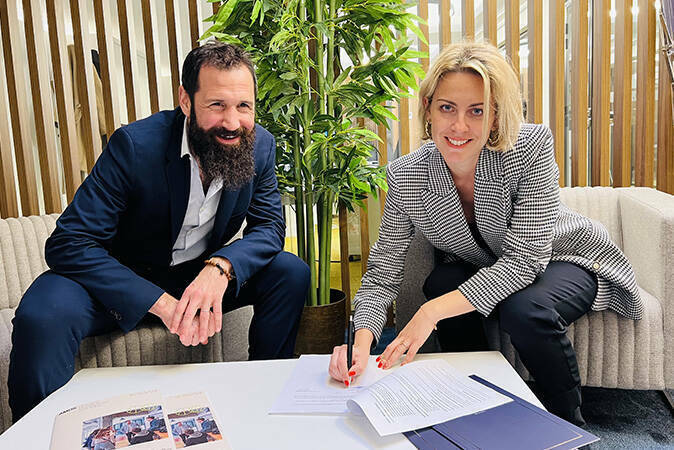 AMOS Sport Business School, a school of the ACE Education group
The main ambition of ACE Education is to ensure quality training, enriching experiences and a serene future for our thousands of students. Our promise is to turn their passion for sport, hospitality, fashion or design into a sustainable profession.
That is why we are pleased to announce the new contract we have just signed with Elevate until 2024, as part of the largest sporting event to be held in France and to which Elevate will have the opportunity to contribute.
Elevate is an international human-centered agency specializing in the recruitment, training and management of event staff. It connects talent, data and brands to maximize the impact of marketing actions.
This promising partnership will enable the recruitment of students from our AMOS Sport Business Schools, CMH Hospitality Management Centers, and ESDAC Higher Schools of Design for major sporting events in 2023 and 2024, as well as for other sectors ranging from hospitality to fashion.
All schools in the ACE Education group aim to help young people enter the job market successfully and enable them to quickly move into top management positions in their chosen fields.
"This major partnership brings together two entities that are developing in Europe and internationally and mark their common desire to strengthen their capacity to develop and support the employability and professional experiences of students in sports and high-end events. Elevate, an event staffing agency present in France, the United States, Germany, Austria and the United Kingdom, offers its clients innovative recruitment solutions. Through this partnership, ACE Education places its students in immersive professional experiences directly related to their training." Audrey Léger, Director of ACE Education Partnerships
"For us, the partnership between ACE Education and Elevate makes a great deal of sense both in France and internationally. Elevate aims to contribute to the professional training of young people and students and to enable them to gain initial professional experience in the field by working on prestigious events. This partnership is a double challenge because beyond providing professional opportunities for all these students and participating in the sports eco-system, it also enables us to raise awareness of the events sector as a whole," Julie Reed, Managing Director of Elevate France & DACH.
About the ACE Education group
ACE Education is a major player in higher learning in France, offering certified Bac+3 to Bac+5 training to over 7000 students in the fields of sport management, hospitality, luxury tourism, applied arts, design and fashion, through its six schools: AMOS Sport Business School and ESBS, sports management schools; ESDAC, design school; CMH, International Luxury Hotel Management Center; EIDM, International School of Fashion and Luxury; and ENAAI, School of Applied Arts, Comics and Illustration. The group offers a variety of programs on its 42 campuses in France and abroad. It emphasizes international experience and professionalization at the very heart of the student experience.