Alumni interview, one-year experience in Qatar, 2022 FIFA World Cup
Meeting
International
London
04/10/23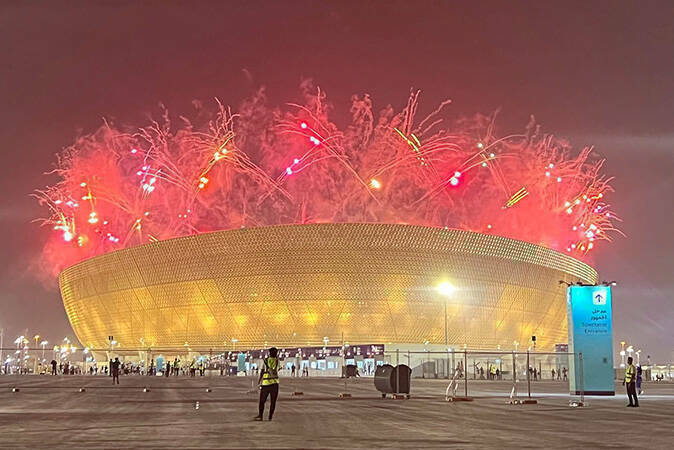 A journey of a young and talented woman
On the last article, we went through Nathalie's journey as a science student to Workforce Operations Manager for the FIFA World Cup taking place this month in Qatar. In this second chapter, we will dive into her one-year experience in Qatar, then we will explore her future challenges with the FIFA World Cup.
Adaptation to the qatari life
Coming from a city like London, where she completed her Global Sport Business Master program, it has been quite a change, not only in terms of temperature but as well in terms of lifestyle.
« A regular working week here starts on Sunday and ends on Thursday, which gives us Friday and Saturday as weekend. As it gets hot very fast, we start working early in the morning. I wake up around 5:30 am every day and work from 7:30 am till 3:30 pm. »
A change in her lifestyle that she welcomes, « it is hard to get used to it, but once you do, it is incredible the number of things you can get done in a day. It gives me time to relax and enjoy a late afternoon by the pool, or other activities after work. »
If you are thinking that finishing work early afternoon and hanging by a pool is nice, wait to hear about what weekends are like there. « A great weekend starts with a Friday brunch which is a staple in this country. After that, I would go to a dhow cruise (typical Qatari boats), a desert safari, visit a Souq (traditional market around here) or do some dune bashing in a land cruiser. »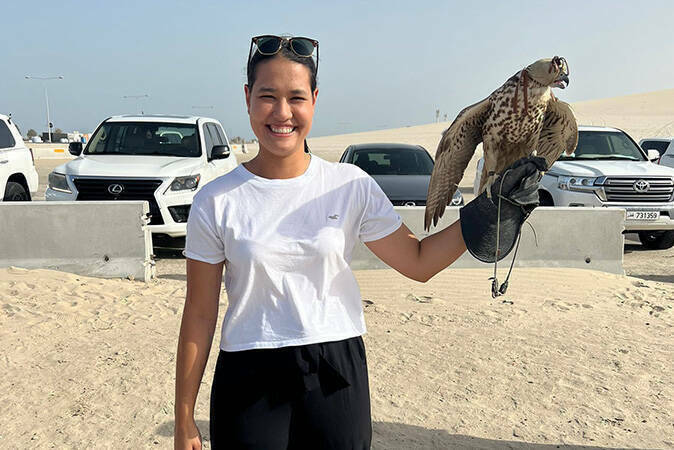 The evolution of mentalities in Qatar through sports
The first major international event that Qatar organized was the Asian Games, back in 2006.
"It completely changed their view on sports", says Nathalie. "They now want to carry on organising major events. The Asian Games should return to Qatar in 2030, while the Formula 1 is set for 2023."
"People are more open-minded. I don't think Qatar will end up like Dubaï. They are trying to keep their own identity, but attracting and being welcoming towards foreigners is something they are really working on."
From the FIFA Arab Cup to the FIFA World Cup
A year ago, and 5 days prior to the FIFA Arab Cup, Nathalie arrived in Doha and was put straight to work.
"The FIFA Arab Cup was a major test for both FIFA and Qatar. Some of the major stadiums were tested at the time, notably the Al Bayt Stadium, where the opening ceremony of the World Cup took place." A period she described as very challenging as the whole transport operations system was being tested daily.
Once this first competition was over, it was time for the managerial team to reflect on essential questions to best prepare for the World Cup. "What did we learn from the FIFA Arab Cup? What did or did not work? And what could be done better?
A few weeks later, adjustments and plans were made to make sure the upcoming World Cup would be a great success.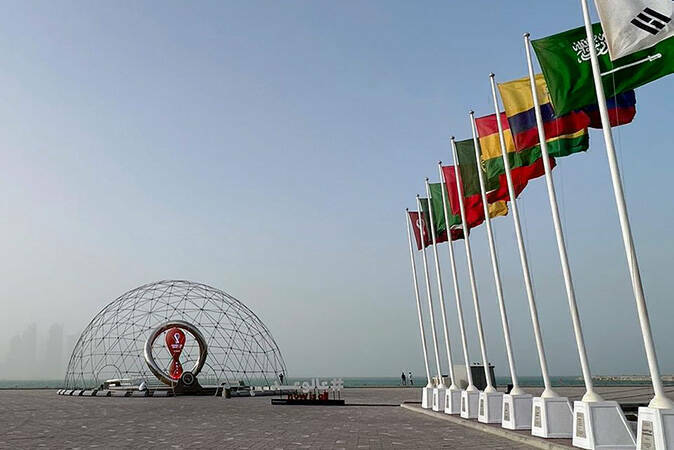 At the moment (early November 2022), Nathalie and her team are going through the "grand rehearsal", which consists of involving all the stakeholders in a few events and trying to replicate what the World Cup will be like and ensuring that everyone is perfectly trained.
We are very proud at AMOS of the journey of this young and talented woman, and we wish her nothing but the very best for during this global competition as well as for the rest of her career.
We will have a follow up interview with Nathalie once the competition is over, so we can get some insights regarding the way this super-event was managed. Stay tuned.
Written by Guillaume Faure, Communications Officer, AMOS London