Mental Health in Sport by Deepak Trivedi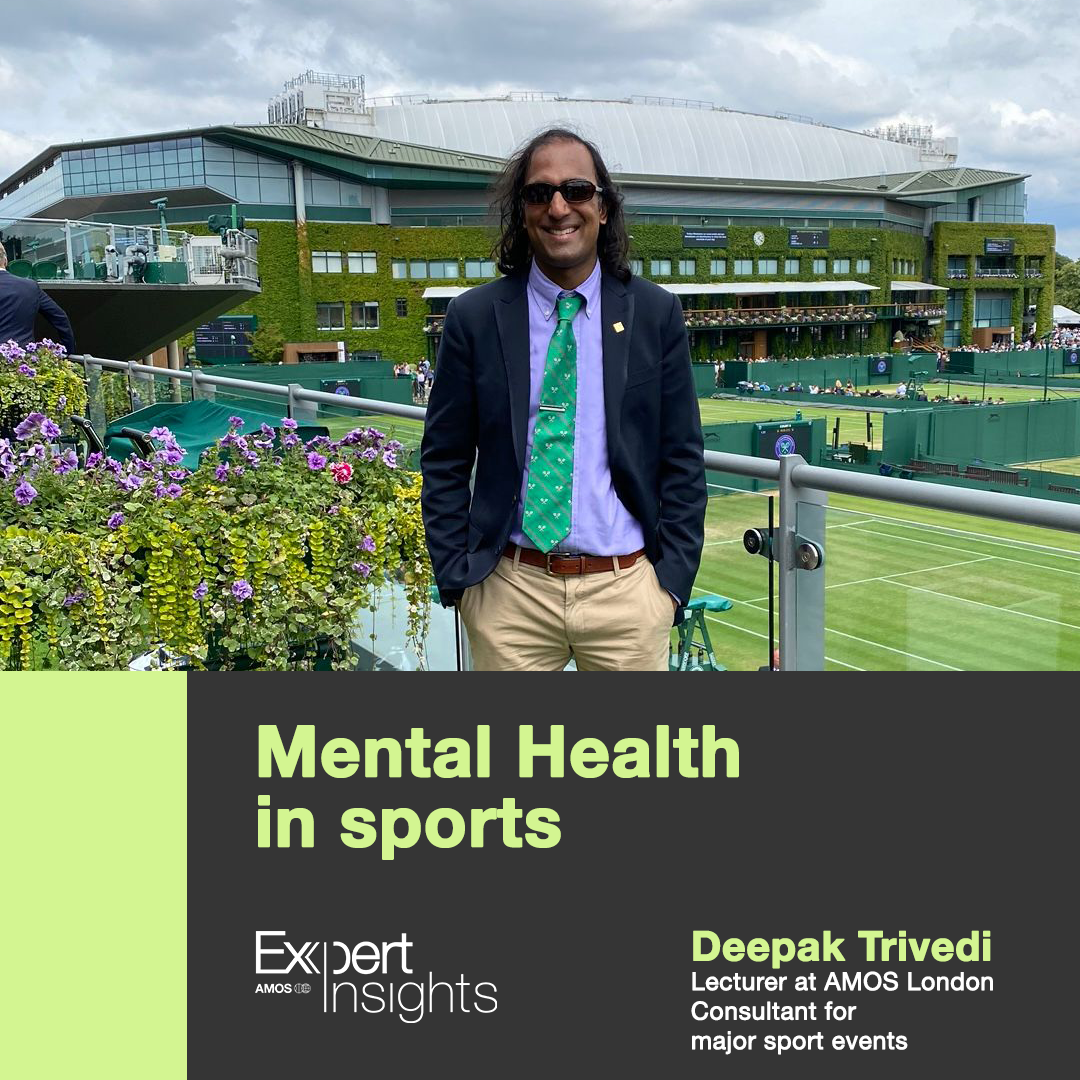 Exercise is known to release endorphins, the chemical in your brain that relieves pain and stress. Nonetheless, that does not mean that top athletes are unaffected by mental health issues. Mental Health is a world problem, and like most world problems it impacts the top athletes too. From Tennis to Martial Arts, athletes have suffered for years and are now opening about their struggles, making them look human.
TIn 2021/2022, one of the best and most influential female athletes, Naomie Osaka, cancelled her participation in major tennis tournaments, including the French and Australian Open, which she previously won twice. This massive news provoked a lot of reactions from journalists, federations, and her worldwide fan base. It pushed Naomie to talk about a global subject, that is way too often overlooked: mental health issues. 
Indeed, more and more athletes over the world have since spoken up about their own struggles, and today, we are joined by Mr Deepak Trivedi, sports expert, and consultant on major sporting events (US Open, Wimbledon and the Olympics) to have an understanding of the situation and to look for sustainable solutions.
Mental Health in Sports
According to Mr Trivedi, "Federations have a duty of care, whether it is about the athletes or the coaches. And what we have seen in recent years is that when they forget about their duty, there are repercussions". Indeed, one of the first incidents our special guest could remember was the 2001 Indian World Tournament in tennis. 
"Back in 2001, Serena Williams played the final. She got booed and was the victim of racist swear. She was praying during the changeover to have the strength to finish the game. She and her sister then refused to take part in this tournament for over 10 years. There were repercussions for the tournament, financially and in terms of reputation, as at the time Serena and her sister were number 1 and 2 in the world". 
Since this incident, federations have grown to get familiar with the problem, and have tried to act. They have notably targeted younger athletes, providing them with support. However, as Deepak rightfully mentioned, mental health is not an age-related issue:
"5-10 years ago, federations, governing bodies and events focused more on juniors, made sure their mental health was ok. There's been a failure to recognize that no matter whether you're under 18 or not, everybody can suffer from these issues, and federations have not yet recognised their role in acknowledging and supporting the athletes who go through it".
If tennis and its stakeholders are indeed yet to fully understand the issue and provide athletes with adequate solutions, other sports and federations have invested in technologies, experts and infrastructures to try to overcome this problem.
The Ultimate Fighting Championship also called UFC whose fighters are dealing with a huge amount of stress has created 2 Performance Institutes specialising in the mental and body well-being of their athletes. Using mindfulness, relaxation, meditation, visualisation, goal setting, sensory awareness, body scan and other up-to-date techniques to help the athletes feel ready and relaxed in and out of camp.
These performance institutes are free to use and available to all fighters on the roaster. A dedicated team of doctors and sports specialists are providing fighters with in-person or online appointments, making sure that the athletes are feeling at their best all year round. "The way we think, impacts the way we feel, which impacts what we do" (Cognitive Behavioural therapy – CBT) – UFC Performance Institute.
This great example of how Organisations and Federations can help their athletes might influence other sports in the coming years.
"It is OK not to feel OK" Naomie Osaka:
Being the highest-paid female athlete in the world and having to manage the expectations of millions of people globally does bring a great deal of pressure, notably the fear of disappointing others. Which is why it is so hard for top athletes to open about mental health problems.
What will the world think of it? Well as Naomie Osaka has experienced and according to Deepak Trivedi, positive comes once you reveal yourself:
"The response of fans has been very supportive; it allows the athletes to become more relatable. Now the average person doesn't feel so bad about their issues because they turn on and say: This is an Olympic Gold medallist (Michael Phelps), or this is the best Female Tennis player and I'm going through the same thing. Athletes are becoming much more relatable which brings them closer than ever to their fans".
Controlling the narrative:
The other issue that was stated by Naomie Osaka was the non-pleasant relationship that some athletes could have with the press.
"I believe that we can make it better, more interesting, and more enjoyable for each side. Less subject vs object; more peer-to-peer" Naomie Osaka.
Even though press conferences can rarely be avoided, it appears that many other solutions present themselves to the athletes when it comes to opening themselves to the world about their intimacy, medical records, and personal problems.
Mr Trivedi added: "One of the things that athletes say, is: they hate doing interviews because they might be misquoted".
"Athletes have more media power, and they control the narrative. The fans are more likely to listen to athletes, and to what they say directly on their website, on their own page or on their Twitter account. They are more likely to do that than read articles and see what journalists say about them".
Indeed, with the ever-growing fan base on social media, and its avid desire to always know more about their favourite celebrities, users are tuning up and looking for exclusive content that would show the backstage stories of their idols.
By surrounding themselves with a trusted marketing team, athletes can nowadays control the narrative, show their vulnerability, and engage directly with their fan base without having to fear being misquoted.
Written by Guillaume Faure
Communication Officer AMOS London