Student interview, one year on our campus in Valencia, Spain
Meeting
International
04/10/23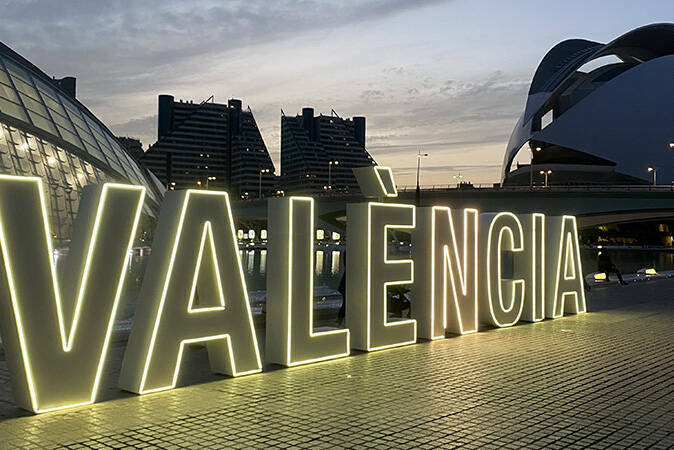 Discovering sport business in Spain…
Emma and Mathilde went to discover sport business beyond the borders of France. Bags in hand, they decided to join ESBS by AMOS Valencia (Spain) for a year.
In this article, you will discover their world, from the city to sport business, not forgetting the people they meet, of course. A desire to go abroad, but always with the objective of increasing their skills. Well done and thank you girls for this interview!
Can you introduce yourselves?
"Hello, my name is Mathilde Martinez. I'm 20 years old and I'm in the third year in the international program at AMOS Sport Business School. I decided to carry out my year in Valencia on the ESBS by AMOS campus." Mathilde
"Hi, my name is Amelia Baouz. I'm also 20 years old and I am currently in my third year at ESBS by AMOS in Valencia, Spain." Amélia
Amélia: how do you find the city of Valencia?
"Life in Valencia is very nice! It's a cosmopolitan city, not too big, with a lot of charm. What I prefer is the climate with its 300 days of sunshine a year, its city beaches of fine sand and turquoise waters, the city of arts and sciences, not to mention Valenciana paella and tapas… Being a seaside city, the economic life, activities and the general atmosphere of Valencia slow down from December." Amélia
Amélia: what are the greatest differences between France and Spain?
"Apart from the language, it's the pace of life. The Spaniards take things differently, especially at night. I thought it would be hard to adapt, but I had absolutely no problem. We adopted their lifestyle very quickly and it's very pleasant." Amélia
Amélia: why did you choose our international program? And why Valencia?
"Aware that learning English is a key element for my professional future, I considered continuing my studies abroad as soon as I finished my Baccalaureate. Then I discovered AMOS. I jumped at the opportunity. Our semester in London during our second year only increased my intention to join the international program." Amélia
"After hesitating between the two countries, I decided on Spain, even though it's a country I know and not so far from France. I chose Valencia first because it's an AMOS partner university, which enabled me to continue the same curriculum abroad. Then, knowing that I have a passion for soccer and would like to develop in the sector, Spain provided a good opportunity to learn more about the sport and its various professions." Amélia
"The last criterion for my choice, but not the least, is that in Valencia all courses are taught in English. We also have a Spanish course, which we put into practice in our daily life as students. It was a truly interesting semester both humanly and professionally." Amélia
Amélia: Do you plan to try an international experience with AMOS again ?
"For the moment, I am hesitant about my fifth year. I am torn between my real desire to go abroad and discover new horizons and my desire to stay in France!" Amélia
Mathilde: what facilities did you visit?
"In terms of sports facilities, we were able to visit Mestalla, which is the Valencia CF football stadium. We also had the opportunity to visit one of the largest basketball facilities in Europe, the Alqueria del Basket, and to finish our year, we will visit the Ricardo Tormo circuit, which hosts grand prix motorcycle events." Mathilde
Mathilde: what are your classes like?
"The courses are going well, the system of lecturers is the same as in France: they are all professionals who come to share their knowledge with us. And sometimes they are people in a very important position. For example, in law we had Juan de Dios Crespo, the lawyer who took care of the transfer of Neymar to PSG." Mathilde
Mathilde: Do you feel that you have grown through this experience?
"Yes, I feel like I'm continuing my development, which is why I wanted to leave again after London. I wanted to continue to discover new cultures and above all new ways of understanding sport business." Mathilde
"Being in another country again, with new people and new lecturers, allows you to get out of your comfort zone and learn even more about who you are and what you want in life." Mathilde
Mathilde: what will you remember most about this year?
"What I remember most is the people I have been able to meet. We formed a nice little group of friends and the year wouldn't have been the same without them." Mathilde
Mathilde: What advice would you give to a student who hesitates about going abroad?
"Above all, not to hesitate. It's the best time to launch an international career. It's a unique experience regardless of the country. The extra advantage is that employers like the idea." Mathilde